Transportation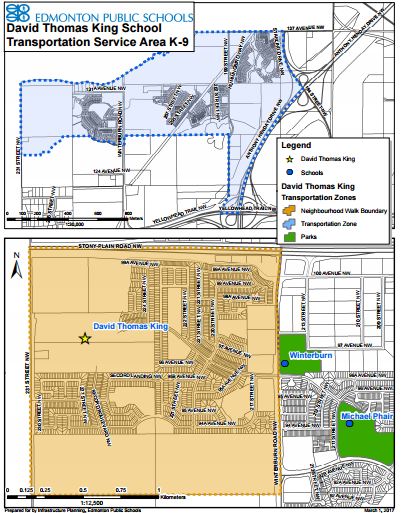 YELLOW BUS SERVICE
Yellow bus service is available for students living in Hawks Ridge, Trumpeter and Starling. Please contact the school for further information.
If you live in Starling, Hawkes Ridge or Trumpeter, yellow bus service is provided to you free of charge. You can register for yellow bus service anytime throughout the school year; however, if you require service for September 4th, the deadline to register is June 1st. You can find the form here. Kindergarten families have a seperate bus application form that can be accessed here. Please scan and e-mail your signed form to donna.joyes@epsb.ca.
EDMONTON TRANSIT SERVICE (ETS)
Visit Edmonton Transit System (ETS) for information about ETS routes to David Thomas King School.
Students who use ETS transportation to travel to David Thomas King School may purchase a monthly bus pass at the school office beginning August 31, 2017.
ETS Fees
Elementary students - $30.00 per month or $240.00 per year
Junior High students - $55.00 per month or $470.00 per year
In the event a monthly ETS bus pass is lost or stolen, a replacement pass is $71.00.
Student Dropoff
Please take a moment review our dropoff procedure. Web Application works best on a computer.